Facebook Advertising
A few interesting Facebook facts to get you started:
Facebok as 1.49 billion active monthly users (that's 79% of all internet users)!
6 new Facebook profiles are created every second meaning 500,000 new profiles are created every day!
There are 50 million active businesses registered on Facebook and 4 million active businesses using Facebook ads. This number has grown by 50% from 2015 to 2016
Why Facebook Ads?
Through Facebook advertising, you can raise awareness; drive demand, boost sales and loads more through the different styles of campaigns they have to offer.
Unless you have an immense budget, you won't be able to target all 1.49 billion active users, but there are multiple ways you can target down to the audience you really want to be reaching.
Setting Up Facebook Business Manager
You can simply start-up by going to www.business.facebook.com and following their step-by-step process to get your advertising account up and running.
Once you've done this, you can add multiple people, designate them roles, add payment details and more.
Having a business manager account allows you to view more detailed analytics, and run more advanced and targeted adverts than standard boosted posts. Therefore, we strongly recommend you get one set-up for your business.
Audiences & Targeting
When it comes to any type of advertising, it's important to know whom you want to be targeting. If you've already got a large following on your business page, then you can, first of all, try out advertising directly to your followers or creating a look-a-like audience, where Facebook will try to find accounts that have similar interests and habits to those who already follow you.
If you're building a followership from scratch, then you can set up to the audience you would like to reach from options including, location, age, gender, interests, job titles, income and more. You can even target those who are followers of your competitors.
There's also the option to upload CSV files, so if you already have a really impressive email list, then you can upload this and target those who use these email addresses for their Facebook profile accounts.
When it comes to audiences and targeting, there are loads of options; you can even do ones where you target those who have previously engaged with different features on your Facebook page. The options are almost endless!
Track your conversion
At Peaky Digital we are big believers in performance marketing and ensuring that everything we do in the digital world is measurable. This can be done in a number of ways from Google Tag Manager, Analytics UTM codes and placing the Facebook pixel directly onto your website.
Define your Objective
What is your objective? Facebook gives you a variety of options for this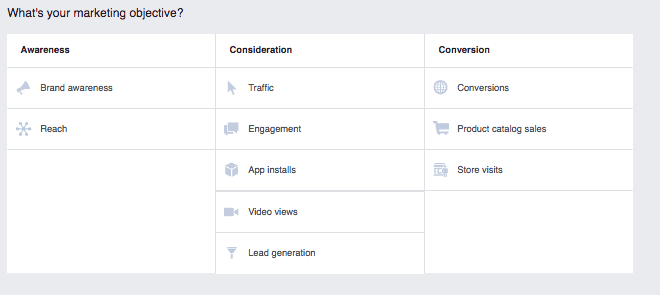 Facebook has 10 types of campaign options, and they are regularly creating new options. Here's just a breakdown of the current options.
App Engagements – get more activity on your mobile app
App Installs – get people to install your mobile app
Brand Awareness – reach people who will pay attention
Click To Website – send traffic to your web page
Event Responses – promote an upcoming event to get more attendants
Lead Generation – collect information from people
Local Awareness – reach people near your business
Offer Claims – people can claim your offer to use in-store or online
Page Likes – build more likes for your page
Page Post Engagement – reach and gain more interactions on your post
Store Visits – capture those when they're near and direct them to your business
Video Views – tell more of a story through video adverts
Website Conversions – get people to take specific actions on your website
You can find more detailed descriptions of these types of adverts and image dimensions here.
If you need any help identifying which targeting objective would be best for you, please do not hesitate to get in touch with us!
Optimising Creative
Tip 1: Always add 3+ creative to any one ad set
Tip 2: Pause an ads that's less than 4 in frequency
Tip 3: Experiment with changing optimisation to daily unique reach
Facebook Ad Types
The adverts within these campaigns can be styled in a variety of ways. Some campaigns will only allow you to have still images, but some allow you to run carousel or canvas styles.
Video views & custom audience
Local Awareness
Page post enagement with tagged products
Canvas
Facebook Collection
Tools to use for Facebook Ads
There are a number of tools you can use to help you create as well as monitor your Facebook advertising success  – we've listed a few of our favourites below:
Budgeting for Success
When it comes to budgeting, there's no real right or wrong. Obviously the higher your budget, the higher your potential reach is. It is important to note there is a minimum budget of £100 when it comes to advertising on Business Manager.
Within a campaign, you're able to split budgets up on different audiences. You may want to target one audience more than the other, or perhaps you're testing out a new audience and don't want to initially risk a high budget.
Interested In Facebook Advertising?
At Peaky Digital, we can help design, build, run and optimise Facebook campaigns. Get in touch with us for a free consultation or for a custom proposal.
Latest posts by Natalie Crouch
(see all)