As the world endures Covid-19, businesses across every sector are having to rapidly adapt their strategies in order to cope with changing consumer behaviour.
Insights platform Google Trends shows that searches for 'Buy Online' have seen a huge spike in searches over the past few weeks.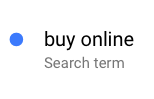 Getting Ahead of the Competitive Landscape

As the economy faces a downturn, many businesses have paused their marketing campaigns. These companies have left themselves without a vital component of their business. Marketing is essential for any brand's success and, without it, a brand leaves themselves entirely reliant on a small pool of existing customers. These companies are also leaving a more lucrative pool of search volume for the competitors that remain. Here's how you can make the best of this shifting landscape:
Take Advantage of the Lack of Competition
As businesses pull their marketing, it leaves you more of an opportunity to capitalise. A less competitive landscape means that it's easier for your brand to get seen and offers the potential to bid on services or products that were previously too competitive.
Monitor Lower CPC's
Now is the time to be monitoring your cost-per-clicks. Some industries have seen a drop in cost-per-click price, streamlining their investment and making their advertising generate an effective return on investment. Analyse the cost-per-click of your campaigns over the past few weeks compared to previously and use these insights to superpower your PPC campaign.
Find Your Audiences on New Platforms
Amazon, YouTube, Facebook, Instagram, Twitter – all of these platforms present new opportunities for your business. As users are forced to spend increasing amounts of time at home there's a huge increase in the use of these online platforms, so take this opportunity to review your presence on each channel.
Update Your 'Out of Stock'
With interruptions to logistics and a shifting demand for certain products, many brands may be experiencing low levels of stock. It's important to keep on top of this and pause or update your marketing accordingly – a poor user experience from audiences landing on products that are no longer available will be damaging to your brand and cause wasted spend.
Get Help Reviewing Your Paid Performance
Do you need support reviewing your current performance? Our expert team can help you devise a strategy that will navigate the complexities of the changing market landscape. Realign your activity and ensure that your spend is streamlined as efficiently as possible to generate a strong ROI. Get in touch with our team today to learn more.
Latest posts by Natalie Crouch
(see all)