Getting your Business Ready for Black Friday
The two biggest shopping days for online retailers are quickly approaching: Black your Friday and Cyber Monday. Ecommerce businesses across a wide range of verticals are using the Black Friday weekend as an opportunity to make more sales, increase brand engagement and broaden their audience.
So, how can you ensure that your business makes the most of Black Friday? We've given our top tips below:
Preparation is key
Preparation is essential if your business is going to make the most of this once-a-year opportunity. Get your ducks in order early and start letting your customers and potential customers know that Black Friday is coming.
Create a buzz with new and existing customers
Over the last few years, consumers are increasingly aware of Black Friday. Many ecommerce stores will actually see a decline in sales in the run up to the event as customers anticipate better deals to come. Let your customers know what's coming and create a buzz that encourages them to shop with you.
Ensure your website is ready for your customers
If you have marketing plans to drive incremental traffic and customers to your website, you need to ensure your website is ready to deliver on your promises. A lot of websites see downtime on their websites so make sure your hosting can handle the increase in traffic. Black Friday is your opportunity to showcase your brand, and to encourage the weekend's customers to return to you after the event too.
Black Friday Marketing Ideas
A lot of retailers ask, 'what can I do to boost sales for Black Friday'? We have listed different Black Friday marketing ideas to help you drive more traffic and sales during the biggest shopping season of the year.
Get Social
Get your customers excited in the run-up to Black Friday by creating social sneak peaks. Let them know what discounts they might be expecting, or encourage them to sign up to your newsletter to receive extra discounts.
When marketing for Black Friday you should be taking advantage of Black Friday focused hashtags in addition to your regular hashtags. You'll want to include hashtags such as #blackfriday #blackfriday2017 #cybermonday #sale #blackfridaysale #blackfridaydeals. This will allow you to reach customers who are specifically looking to score a deal.
Increase your Marketing Spend
During Black Friday weekend, advertisers will be spending more than usual. The cost per click will also be higher than usual. If you plan to advertise on Facebook, Google or Bing, consider increasing your ad spend a few days out from Black Friday. This will give the ad enough time to optimize for conversions, and allow you to adjust and tweak along the way before the big day.
Create a Content Calendar
Creating a content calendar with what needs to get done and by when. On your calendar be sure to include the following:
Create new graphics and banners: You'll want to create graphics for social media posts and email campaigns. You'll need to create a new homepage banner graphic.
Plan out social media posts: Automating your social media posts ahead of time will make your life easier. Write out the copy and relevant hashtags in advance.
Plan out creative and copy: You'll want to have your creative and copy completed for emails, social media, ads and more.
Plan out promotions: Run the numbers to figure out how much of a discount you can offer your customers without affecting your margins too greatly.
Create an Email Marketing Campaign
When it comes to email marketing, there are two approaches. First, if you don't have an email list, contact all of your former customers and offer them a special VIP discount code that gives them additional savings when they buy. Since they've already bought from you before they'll be more likely to buy again. If they've bought within the past 30 days, your brand will be fresh in their mind so be sure to include those people as well. If you don't have an email list you may want to run some ads to build out your list before Black Friday so that you can email them during the weekend. 
When it comes to sending emails to potential customers email them the deals you'll have that day so that they keep checking back online. If you promote specific products make sure the products are clickable so people can go directly to the product pages to make their purchases. Be sure to mention how steep your discount is in the email subject line to help incentivise click through. For example, '50% off all dresses today only.'
Revamp your Remarketing Creatives
If you have a remarketing campaign running, ensure your creative reflect your Black Friday offerings to increase CTR as well as intent to buy. If you don't have remarketing campaign running, this is a great tool for brand awareness and something we'd highly recommend implementing.
Create a Gift Guide
A lot of people will be doing their Christmas shopping on these days, so you can give them a helping hand by creating a gift guide. You could feature a mixture of products that are on promotion, and those that aren't, or you could feature a special promotion just on the products that are featured within the gift guide.
There are two ways you can easily create a gift guide: by creating a collection, or by writing a blog article. To get more traffic to your gift guides, feature them on your homepage or other places around your website where they'd get visibility. You can also email the gift guides to customers. If you chose to make your gift guide a blog post you can share it on social media and even boost the post on Facebook to drive more traffic to it.
Launch a new product range
Planning on launching a new product in the near future? Black Friday or Cyber Monday are great days to do this. People are more willing to make purchases on these days, and you can feature your introductory offer during this time.
Alternatively, you can run a campaign similar to Lush last year. They launched the error 404 bath bomb, raising money for the Digital Fund with the #keepiton campaign .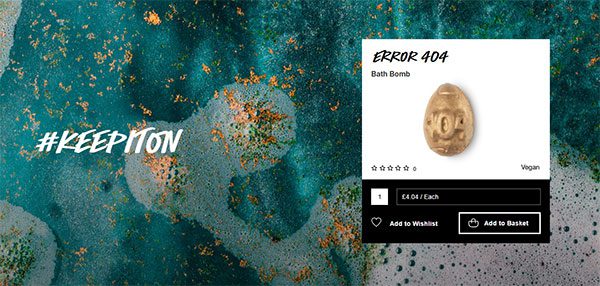 Offer a Free Trial
If you're a service based business and are feeling a little left out of the Black Friday craziness, don't worry, there are lots of ways you can get involved too. Why not offer a weekend free trial, offering customers to trial your service, making them more likely to convert as a paying customer?
Extend your sale
An effective marketing idea for Black Friday which has become much more common is extending your sale. Black Friday used to be the main day for retailers to have their best sales. However, with the growth of ecommerce, Cyber Monday emerged. As a result, most ecommerce retailers extend their sale to the full four days. By extending your sale, you'll be able to draw in more customers and sales by having sales all weekend long. You can even start a little bit earlier than the other retailers.
Keep your Deals Fresh
Throughout the day, release different offers and discounts. Engagement is key and you want your customers waiting to see what the next deal might be! These deals could be released on your social media or across email campaigns.
A lot of brands will start featuring their offers from first thing in the morning, and by the time lunchtime comes around, everything has sold out!
Find out how we can help your business make more of the Black Friday opportunity. We work with a wide range of ecommerce and lead generation businesses to help them drive traffic, engagement and sales. Get in touch today to find out how we can help you.
[ninja_form id=2]
Latest posts by Natalie Crouch
(see all)