Google My Business is an invaluable tool for businesses appearing in search results. The feature is completely free, allowing businesses to control and edit their search presence in various ways including across google maps and with a Google My Business (GMB) card that shows rich details in the right hand side of search results.
Optimising this information is a valuable marketing activity – and one you can do with fairly ease. See some of our top tips for optimisations you can make today:
Fill Out Your Business Details
Google My Business cards can contain a wealth of useful data for your audience, such as business address, opening times, type of service and brief description. It's a great tool to give your consumers as much data as possible to make an informed decision. Make sure you take full advantage of all of these features and fill in any details that have been missed.
Engage With Your Reviewers
It's important to interact with your reviewers – both good and bad. Commenting on positive reviews is a great way to show your appreciation to loyal customers, whilst responding on negative reviews will give you a chance to professionally counteract, providing all of the contextual details for that particular situation for your audience to have a more informed outlook – particularly at the proactive ways in which you respond to complaints.
Answer Q&As (Or Write Some Of Your Own)
Q&A's from your customers aren't just asking for information on your business – they also might be potential leads. Make sure to keep an eye on any questions being asked and answer them promptly. You can use this area of your GMB to ask and answer questions yourself, either as the store owner or through a third-person, to help viewers find extra relevant information without having to search on your website.
Upload Images
Typically Google will pull some basic images, such as the street view of your registered building – but you can get much more creative than this! Upload relevant and engaging pictures that represent your offices, services and brand.
Show Off Your Latest Blogs..
GMB provides the perfect place to showcase some of your most interesting examples of thought-leadership. Upload some of your latest articles to your GMB card, allowing users to see them and creating engaging reasons to click through to your site – particularly if your headlines are compelling.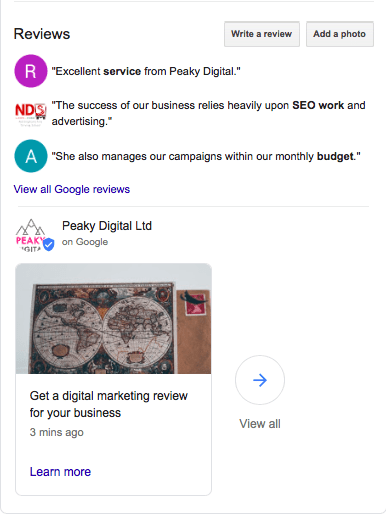 …And Events
Similarly, you can publish details of your latest events, such as workshops, concerts, conferences and more! It's a great way to generate additional awareness for your next event. Just remember to keep on top of updating, and remove events once they no longer need traffic driven to them (such as if the event date has changed or is fully-booked).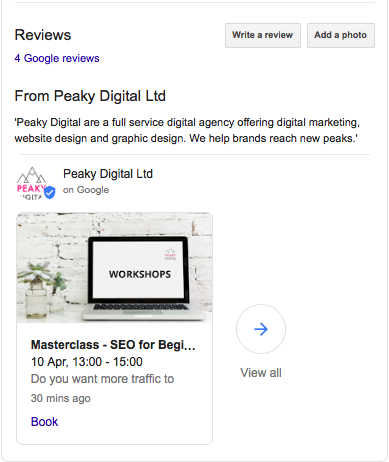 Get Started On Google My Business Today
Google My Business is a highly flexible platform, with access available via a mobile app – meaning you can make optimisations from anywhere on the go. If you want support making optimisations, or increasing your general search visibility online, don't hesitate to get in touch with our friendly team today, here!
Latest posts by Natalie Crouch
(see all)