How are people using Pinterest to shop?
A few years ago, Pinterest launched the perfect solution to product discovery; a visual search tool allowing users to search for items that they didn't know how to describe.
According to Pinterest, the visual search tool:
"lets you zoom in on a specific object in a Pin's image and discover visually similar objects, colours, patterns and more."
So, how does it work? if you were looking for 'bridesmaid dresses' and find a pin with an item you want to buy, or just find out about. You can now simply click on the 'search' icon on the top right of the image and this will open up a movable box that will allow you to zoom in on the product you're interested in.
For example, when searching for 'bridesmaid dresses', Pinterest then returns 'visual search' and there's the bridesmaid dress. You can see that there are two options from different shops. If you click on either result will take you straight to the e-commerce product page where you can purchase the dress if you wish.
Pinterest has since made further updates to make the path to purchase even easier for its users.
Your strategy for making the most of Pinterest
As you can see, there is a huge opportunity to connect with engaged consumers on Pinterest. So where to start?
Create tailored, or themed Pinterest boards
Create a series of boards that focus on a theme or product, rather than making a single board. Try and avoid using product photography from your site – think about how to inspire people, especially those using visual search.
Rustic Farmhouse Bathroom Themed Boards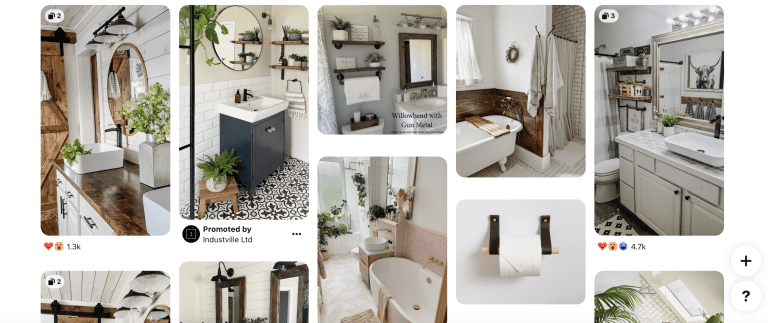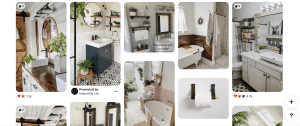 Optimise your Pinterest pins
Lighter images tend to get more engagement than darker images
Adding a description of between 200 – 300 characters can increase repins, and a call to action can increase engagement by 80%
Taller images stand out more and have a greater chance of being repinned. The optimal size seems to be 735 by 1102 pixels.
Images without faces receive 23% more repins than those with faces.
Ensuring that Pinterest is included in your e-commerce strategy will help give your products more visibility, which will ultimately increase traffic, drive sales and improve brand engagement. If you need help with your social media strategy, our team of experts can give you the advice and guidance you need to put together an outstanding campaign. Get in touch with us today to get the ball rolling.